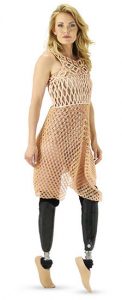 Amy Purdy
Keynote Speaker
Amy Purdy is a world-class snowboarder, 2014 Paralympic Medalist, and founder of Adaptive Action Sports. She is also a motivational speaker, actress, model, dancer, clothing designer, New York Times best-selling author, and product spokesperson.
At 19, Amy contracted Meningococcal Meningitis, a vaccine-preventable bacterial infection, and was given a less than two percent chance of survival. As a result of the infection, doctors had to amputate her legs below the knee. Amy also needed and successfully received a kidney transplant (from her father). Just three months after the transplant, she entered the USASA National Snowboarding Championship where she won medals in three events. Amy is the only double-leg amputee competing at the world-class level, and in 2013 she was named as one of the top 15 most remarkable para-athletes in the world by the International Olympic Committee. Today, she is one of the top-ranked adaptive snowboarders in the world and was the 2014 Paralympic Bronze Medalist.
She co-founded Adaptive Action Sports in 2015 to help those with permanent disabilities get involved in action sports. AAS has partners with EPSN and runs adaptive action sports competitions at the summer and winter ESPN X Games. In addition, Amy is now a powerful and inspirational motivational speaker who has been seen by millions worldwide, including 1.4 million+ views of her TEDx talk.
Amy's creativity, positive outlook and her never give up attitude have opened doors to many other opportunities including being featured in a music video by Madonna, a lead actress role in an award-winning independent film, participating in The Amazing Race, and multiple modeling projects.
She inspired millions of fans with her stunning performances on ABC's Dancing with the Stars, eventually being the show's runner up. She published her memoir, "On My Own Two Feet" and has her own clothing line in partnership with Element Eden. Amy shared her story as part of Oprah's The Life You Want Tour and was the featured dancer in the opening ceremony of the Rio Summer Olympics.
Amy is currently training for the PyeongChang 2018 Paralympic Winter Games.