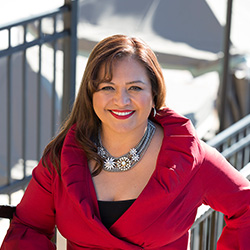 Deann Kamalani
Deann Kamalani is the Director of Marketing for Chukchansi Gold Resort & Casino. A 20-year veteran of the gaming industry, Deann Kamalani brings extensive marketing management and talent development expertise to her position. As Director of Marketing, Mrs. Kamalani is responsible for all of the property's marketing functions including strategic planning, promotional programming, implementation, analysis and customer insights.
Mrs. Kamalani joined Chukchansi Gold's Human Resources Department as part of the pre-opening team in 2003 and was instrumental in the property-wide grand opening as Training Manager, providing overall orientation and service training for more than 1,300 staff. As Director of Training, she built numerous departments from the ground up and oversaw opportunities for employee advancement including the Tribal Development and Tuition Reimbursement programs. Touching all aspects of the integrated resort, Mrs. Kamalani gained invaluable first-hand experience in business operations which she translates into all areas of marketing.
As a member of the executive team, Mrs. Kamalani has led key rebranding campaigns, directed innovative player development strategies and restructured the advertising department for efficiency and digital reach. A lifelong athlete who played at the collegiate level and today coaches high school basketball, Mrs. Kamalani is a respected mentor who thrives on team development and encouraging excellence and growth in her staff.
Mrs. Kamalani earned her bachelor's and master's degrees from Chaminade University in Honolulu, Hawaii and is an alumna of Harvard Business School's Program for Leadership Development. She holds a gaming management certification from University of Reno-Nevada and received the prestigious Dale Carnegie Highest Achievement Award.