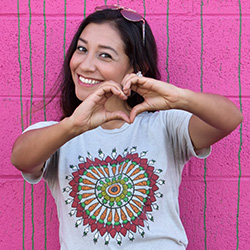 Farin Montanez
Farin Montanez is a food blogger and Certified Holistic Nutritionist who is passionate about helping others prevent chronic diseases like cancer, diabetes, heart disease and obesity through a plant-based diet and active lifestyle.
Farin holds a bachelor's degree in mass communication and journalism, and is an avid ultramarathon runner. As a busy mom of two, she aspires to help women live a long, healthful life while spending less time in the kitchen and more time doing activities they enjoy.
Born and raised in Fresno, Farin graduated from Edison High School and Fresno State. She worked as a columnist, reporter, and copy editor at The Madera Tribune before becoming the editor-in-chief of The Clovis Independent.
In 2017 she turned a layoff into lemonade by launching a blog and publishing her first cookbook. She is adding the final touches to an online course, Wholly Prep Boot Camp, which will teach busy folks how to prep an entire week's worth of whole food, plant-based meals in two hours.