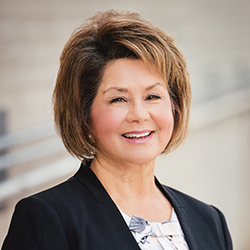 Helen Chavez-Hansen
Helen Hansen is the President/Owner, CEO, and President of the Sales Team at La Tapatia Tortilleria, Inc.  She was born and raised in Fresno, California where she attended Roosevelt High School, Fresno City College, and 4C's Business College. At 19 years old she entered the business world doing clerical work at a local grain company. It was only after a chance encounter with a grocer looking to sell his small tortilla equipment that she took her savings and purchased one corn tortilla line. This became Helen's side job and the origins of La Tapatia Tortilleria. Success came with hard work, dedication, and passion.
In the late 1980s, Helen ventured into the realm of sales, personally visiting with each customer to identify their needs and the role of tortillas in the marketplace.  In 1993 La Tapatia began producing tortilla chips.  The success of the original "Tostadita" chip paved the way for additional growth. In 2003, Helen's goal to "feed the world" came to fruition as La Tapatia began exporting tortilla chips overseas.  Through these endeavors, Helen became a member of the Tortilla Industry Association where she served on the board for 10 years and eventually as President from 1994-1995.  In 2012 she was officially inducted into the TIA "Hall of Fame."
Today, La Tapatia is managed by Helen, her four daughters, and one son-in-law. The plant is located in Fresno and employs 170 individuals. Product is distributed daily and includes export, retail stores, food service customers, school programs, hospitals, commissaries, and private label programs. Helen takes pride in purchasing locally grown commodities and ingredients while continuing to expand distribution in the Pacific Rim as well as throughout the United States. Her current goal is to further research and development of new and healthier products within the market.  The business has received numerous accolades including "Best of the Valley" awards, "People's Choice" awards, "Woman Owned" and "Minority Owned" business awards, Excellence in Business, and in 2017 Helen received the "Harold Zinkin Entrepreneur of the Year" award from the Fresno Chamber of Commerce. La Tapatia's success has allowed Helen to give back to the community through annual scholarships, donations, and sponsorships.  She is a resilient and humble individual who continues to provide vision and leadership for La Tapatia.