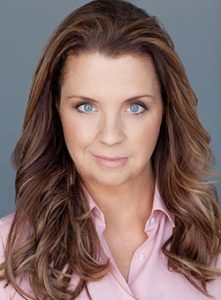 Kerri Pomarolli
Cool-Down Speaker
Kerri Pomarolli is a stand-up comedian, actress and author based in Los Angeles. She has appeared in more than 75 stage productions and had recurring roles on Port Charles, The Young and The Restless and General Hospital. She has been in motion pictures such as DeadLock, and her latest movie is on Netflix – The Brennan Manning Story. She starred and co-produced I Love Kerri, which premiered on Sky Angel in June 2009. She toured in stage productions from Off Broadway to Italy and also played the leading role of Vindice at the Young Vic Theater in London. She has also toured in many musical productions, including playing the leading role of Darlene Love in Leader of the Pack in New York.
She has published 4 books. In 2008, she published "Guys Like Girls Named Jennie."
She is a sought-after corporate motivational speaker with past clients such as Ford Motor Company, Chrysler, and Cisco Systems. She can be seen on Nick at Nite, Moms Night Out, and her TV web series Momland (with co-star Angela Hoover from America's Got Talent).
Kerri has 29 appearances on The Tonight Show between 2000-2012, toured with many comedy greats, including Sherri Shephard from The View, Candace Cameron Bure, Jim Carey, and Carol Channing. She has been the host and emcee for The California Women's Conference with such stars are Marcia Cross, Tippy Hedren and Fran Drescher. She hosted the GMA Dove Awards in 2006 at the Grand Ole Opry. Kerri hosted her own show Laugh Break on MOMTV and was a co-host for MOMTV at the Golden Globe Awards 2009. She has also appeared on Good Morning America, ShowBiz Tonight, CNN, Lifetime TV, and the Oxygen Channel.