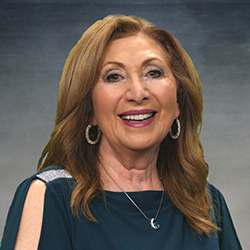 Lupita Lomeli
Early in life, Lupita discovered that she had an aptitude for music, singing and broadcasting.  Lupita nurtured and improved on this ability to later help her fulfill her dream when she landed a position as a disc jockey in a top-rated radio station in Modesto, California.  She continued working in this capacity at various radio stations in Stockton and Fresno.
A widely recognized individual in the Latino Community, Lupita has worked for over twenty-five years as a host of a very popular show, "Arriba Valle Central" of the Univision Network's Channel 21 in Fresno.  She also has additional duties as Director of Community Empowerment for Channel 21 as well as for UniMás.
Lupita has also worked as a Reporter, Assignment Editor as well as serving in many other capacities in her television career.
Channel 21, the top-rated television station in the valley, has given her the opportunity to reach out, help and inform typically underserved populations in unprecedented numbers.
Lupita is, without a doubt, one of the most recognized Latina in the Central Valley of California.  Her untiring and consistent commitment to the community has earned her the respect, admiration and friendship of the Latino community.
Lupita served as the 2003 President of the Central California Hispanic Chamber of Commerce.  She is a member and Founder of the Latino Rotary Club, Board Member of Centro La Familia and Lupita was also elected to serve as a representative of El Consejo Consultivo del Instituto de los Mexicanos en el Exterior. She also created the Project Hope "Proyecto Esperanza" along with many non-profit organizations raise funds food, clothing, and assistance to the underserved Community.
These accomplishments have given her much satisfaction, but none as great as raising her two children, Christian and Lynnette.