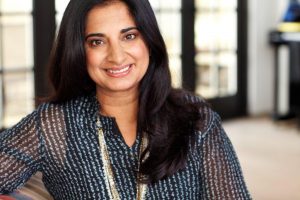 Mallika Chopra
Warm-Up Keynote
Mallika Chopra is a mom, media entrepreneur, public speaker and published author. Her most recent book, Living With Intent: My Somewhat Messy Journey to Purpose, Peace and Joy, was published in April 2015. She is the founder of
intent.com
, a platform focused on personal, social and global wellness. Her earlier books, "100 Promises To My Baby" and "100 Questions From My Child" have been translated and sold in dozens of countries worldwide. Her varied background includes launching the Heal The World Foundation in the 1990's with Michael Jackson, being part of the initial team to re-launch MTV in India, and serving as a Health Ambassador for the Pepsi Refresh Everything Project in the US – an initiative that gave millions of dollars to individuals, non-profits and companies to for projects in their communities. Mallika is also the founder of The Chopra Well, a premiere YouTube channel, she launched with her brother, Gotham Chopra, and father, Deepak Chopra.
Mallika has taught meditations to thousands of people. She enjoys speaking to audiences around the world, and has shared her passion about Intent at TedXSan Diego and TedXBerkeley, Ideacity, Business Innovation Factory, LOHAS, Prevention R3, Wisdom 2.0, Women's Conferences around the United States, and the Parliament of World Religions. She has shared ideas on balance and purpose at companies such as Coca Cola, Disney, LinkedIn and Google. She travels internationally for workshops on meditation and balance, as well speaks regularly at the Chopra Center for Wellbeing.
Mallika's writing and work have been featured in many publications including Time.com, Self Magazine, Women's Health, Prevention Magazine, OWN, Glamour, Oprah.com, Mind Body Green, the LA Times, and Huffington Post. She currently is featured in Time Magazine's Special Issue on Mindfulness. Mallika has a Bachelor of Arts from Brown University, an MBA from Kellogg Business School, and is currently pursuing a Masters in Psychology with a mind body spirit concentration at Teachers College, Columbia University.