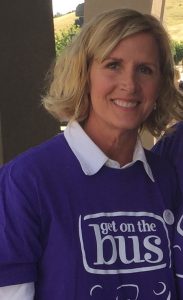 Mary Thielscher
Born in California, Mary moved to Ethiopia, Africa at the age of four. With a father in the government, she spent nine years of her childhood overseas, affording her a unique global view and appreciation for our country.  Mary is the second sibling in a large family of five children: four sisters and a brother.
Mary obtained her B.A. in Liberal Studies and her Primary K-6 Teaching Credential from San Francisco State University. Currently she is the Lead Educator for the non-profit, Center for Family Strengthening in San Luis Obispo, CA. Her program, Kidz Toolbox For Personal Safety®, is for kindergarten and 2nd grade involving personal safety and sexual abuse prevention.  Under the same non-profit, she also teaches a program called Beginnings® for high school, Cuesta College and Cal Poly. The program covers the effects of alcohol and other drugs on pregnancy.
Mary is the Regional Coordinator for a program through the non-profit Center for Restorative Justice Works®, called Get on the Bus®. She was a volunteer for this program for eight years prior to being asked to become the Regional Coordinator. Currently Mary volunteers for many organizations, including Feed My People at the Maxine Lewis homeless shelter. She also volunteers her time with the local high school, the homeless overflow as well as The Food Bank fundraiser.
In 2016 she was awarded the San Luis Obispo County Red Cross Safety Hero Award.  In January 2017 she was the Hands on Hero award recipient for the First Bill of Children's Rights. She currently lives in San Luis Obispo with her three amazing sons, has been married for 33 years and also has a big Golden Retriever named Cooper.
Mary is an educator, a wife, a mom, a sister, a friend and a VOLUNTEER!!!