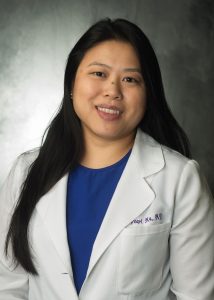 Pearl Ma, MD
Dr. Pearl Ma is a born and raised Iowa native and moved out to California, where she completed her Bachelor of Science and Doctor of Medicine from University of California, Davis. Throughout her undergraduate at UC Davis, she worked extensively in community free clinics, helping the underserved populations in Sacramento County. She was accepted into the residency training at University of California, San Francisco-Fresno general surgery program, and was subsequently selected to complete fellowship training in Advanced GI (Minimally Invasive) and Bariatric Surgery Program under the tutelage of Dr. Higa and Dr. Boone.
She has been a leader in teaching and patient care and honored with multiple UCSF Fresno Resident Excellence in Teaching Awards. Dr. Ma was selected as the Leon S Peters Foundation Resident of the Year Award for demonstrating an outstanding job in patient and family care, research project success and volunteering in the community.
She has a passion for teaching as well has an interest in research with publication in revisional bariatric surgery and presented a rare surgical procedure at a national laparoscopic surgery meeting. In addition, she has completed a Trauma textbook chapter on social violence. During her fellowship she obtained advanced certifications including Society of American Gastrointestinal Endoscopic Surgeons (SAGES) and American Society for Metabolic and Bariatric Surgery (ASMBS) and American Board of Surgery (ACS). She completed her fellowship as number one in the nation with over 900 advanced bariatric/minimally invasive surgeries.
Her goal is to serve the people of the central valley and to continue educating the local physicians and surgeons in cutting edge surgical techniques and compassionate patient care. Dr. Ma is also joining the UCSF Fresno faculty team as Associate Clinical Professor of Surgery for the Advanced GI/Bariatric Surgery Fellowship.