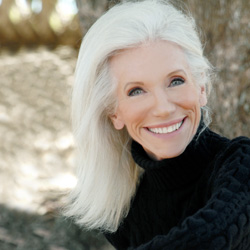 Valerie Ramsey
Valerie will be presenting on two topics at #CCWC18. In the morning she will lead a session on Creating What's Next – The Joy of Trying Something New, and in the afternoon her subject will be Fit, Young & Vital – Looking & Being Your Best at Any Age.
Valerie firmly believes that we should never be afraid to explore life, challenge ourselves, and look around the corner to see What's Next. Valerie went from being a stay-at-home mother of six in her 20s and 30s, to entering the corporate world in her 50s, and to becoming a model, published author, speaker and magazine editor in her 60s and 70s. Wrestling with a big decision? Wondering how to create What's Next in your life? Join her as she shares invaluable life lessons on overcoming obstacles and moving on to an exciting next chapter.
While she was working as public relations manager at Pebble Beach Resorts, a Hollywood producer discovered her and recruited her into modeling.  At the age of 63, this was a new role for her, one that she took on as time allowed, not wanting to give up her dream job at Pebble Beach.  Much to her amazement, Valerie found herself becoming an inspiration and role model for women of all ages which ultimately led to numerous television appearances and her first book, Gracefully – Looking & Being Your Best at Any Age (2008). She is also the author of Creating What's Next – Gracefully (2013).