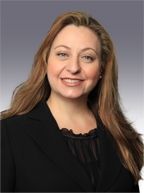 Teresa Daniele, M.D.
Teresa Daniele, M.D., specializes in cardiac consultation, nuclear cardiology and cardiac PET/CT. She is board certified in Cardiology, Nuclear Cardiology and Echocardiography and maintains a special interest in women's heart disease.
As a part of the UCSF Fresno Medical Education Program, Dr. Daniele has started The Center for Women's Cardiovascular Health Program for area patients. Dr. Daniele is an Associate Clinical Professor, Chief of Cardiology for UCSF Fresno and the Program Director for the Adult Cardiovascular Fellowship Program.
Dr. Daniele received her medical degree from Ross University School of Medicine and completed her internal medicine residency at Brown University. She completed a Fellowship in Nuclear Cardiology at Columbia University/New York Presbyterian Medical Center and a Fellowship in Cardiovascular Disease at Yale University/Danbury Hospital. She is President of the American Heart Association Board of Directors and on the Board of Directors for the American College of Cardiology California Chapter.