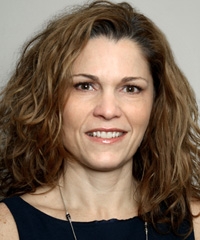 Amanda Reeve, M.D.
Amanda Reeve, MD, began her medical training far from home on the east coast in Philadelphia, Pennsylvania at Hahnemann University. After medical school, she moved north to New Jersey to complete her residency in Obstetrics and Gynecology at University of Medicine and Dentistry, New Jersey; Robert Wood Johnson. As she finished her training, she wanted to start a family and decided to come closer to home. Being from San Luis Obispo, CA, Fresno seemed very close. She began working at Kaiser Permanente in 1999 and has been here ever since.
Dr. Reeve says that Kaiser Permanente has given her the ability to care for a broad range of patients, but also to branch out to do more than just office work. She feels fortunate to be the Women's Health Liaison and Menopause Champion at this facility for many years. In these roles, she has been able to implement local programs to advance the health care opportunities of women at Kaiser Permanente in Fresno and also in the community.
Dr. Reeve is also the lead gynecological surgeon at KP Fresno and has been working to improve and advance minimally invasive surgery. The facility has been performing one hundred percent of our hysterectomies using minimally surgery for several years. This is truly something that has made huge impact on care. The ability to perform minimally invasive procedures allows women to have less pain and shorter recovery times if they should need surgery.
Dr. Reeve's guiding philosophy in patient care is to treat others as she would hope to be treated herself, to listen attentively and to involve my patients in their own health decisions. She believes that an educated, invested and involved patient allows her to better care for them, but also to better care for themselves.
Dr. Reeve has two children with her wonderful husband that she met at Cal Poly in San Luis Obispo. They all share a passion for jazz music.