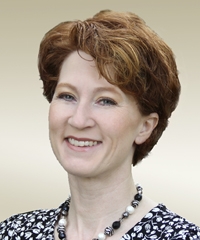 Brandy Box-Noriega, M.D.
The year before I was born, there was a popular song by Looking Glass called "Brandy". My mother had preferred the name Sandy, but Sandy Box wouldn't do so Brandy it was. I grew up the youngest of four children in the then-small town of Citrus Heights near Sacramento. At sixteen, I entered the University of California at Berkeley. I started out taking engineering courses, but signed up for anatomy for fun. It took a great career counselor to help me notice what I considered "fun" could lead to a career in medicine. I took the first step and majored in molecular and cellular biology. I then decided to go into medicine, because I desired interaction with people and not just the science I learned in the laboratory.
I graduated with honors from Berkeley and went to medical school at the University of Southern California. I soon met a physician by the name of Alexandra Levine; a world recognized hematologist and specialist in HIV lymphoma. She encouraged me to proceed with a career in hematology/oncology and to return to USC for fellowship training.
I have been a Kaiser Permanente patient since I was around age five, and spent a week at Kaiser Permanente's Sacramento Medical Center when I was ten for a fever of unknown origin. During my residency at UC Davis, I worked in Kaiser Permanente's hospitals in Sacramento and South Sacramento. I even got the opportunity to work alongside of the physician who had cared for me when I was young. I found the mentorship new doctors received comforting, the camaraderie commendable, and the medicine practiced outstanding. When I finished my fellowship at USC in hematology and oncology, I looked only for a position within Kaiser Permanente. At Kaiser Permanente Fresno I felt at home with both the staff and the city.
My practice is based on two-way communication. I believe the patient knows when something is wrong and I listen to that closely. I am much like a guidance counselor who will make treatment recommendations based on the clinical trial data, but encourage patients to tell me where their views differ from mine. Sometimes I will need to be the coordinator between the surgeons and the radiation doctors, but my goal is to ensure a plan will be made among all the doctors involved in my patients' care together with the patients. I treat all my patients as though they were my family, because I remember what it feels like to be a patient. Having cancer or a hematological disorder can be scary, so it's important for my patients to know that I will be right by their side.