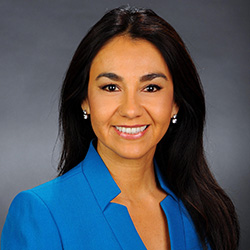 Dora Westerlund
Born and raised in Mazatlán, Sinaloa, Mexico, Dora attended California State University, Fresno, as an international student and graduated with a Bachelor's Degree in Business Administration with an emphasis in International Business. In 2002, she accepted the position of Executive Director for the Fresno Area Hispanic Chamber of Commerce and in 2004 founded the Fresno Area Hispanic Foundation (FAHF). Since 2004, Dora has expanded the FAHF's role in the community and has established partnerships with many businesses, community organizations, and government agencies. Dora promotes entrepreneurship as a means towards economic self-sufficiency by advancing innovating solutions to critical issues facing our state and our economy. In 2009, under Dora's leadership, the FAHF was awarded a $1.7 million grant from the U.S. Department of Commerce, Economic Development Administration to establish the first bilingual business incubator (in the Western United States), the Downtown Business Hub, which was opened in June 2011.
Dora's leadership skills have received much notoriety from many sectors and received numerous awards and recognitions, including the 2016 Top Dog recipient from the Fresno State Alumni Association, and, most recently, the 2017 James Irvine Foundation Leadership Award. Dora cites community service as central to her work, serving on numerous boards and programs. She is part of the Board of Governors at California State University, Fresno, Board of Directors for Valley Clean Air Now, Valley PBS, 21st District Agricultural Association, Big Fresno Fair, and CalSavers, formerly known as California Secure Choice Retirement Saving Investment Board. Philanthropic activities also include the co-founding of the Central Valley Latino Giving Circle Chapter. In May 2018, Dora successfully completed the elite Women's Leadership Forum at Harvard Business School.
Dora lives in Fresno with her husband Larry and their two children, Zoe 9, William 6. Hobbies include running, shopping and traveling to experience other cultures.