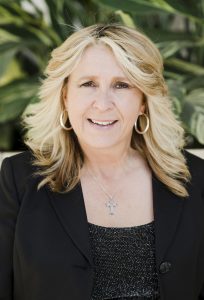 Carole Goldsmith, Ed.D.
Dr. Carole Goldsmith has been recognized on state and national levels as an expert on workforce development, contextualized learning, and career technical education. She has spent over 20 years in a variety of educational leadership roles, most recently as President of Fresno City College.
Before taking the helm at Fresno City College on August 1, 2016, Dr. Goldsmith served as President of West Hills College Coalinga for nearly four years. Prior to that, she held multiple positions at West Hills including Vice Chancellor of Educational Services and Workforce Development and Director of Strategic Planning. She also worked at Fresno Unified School District from 1998 to 2002 and as Vice Principal III, and helped to open the César E. Chávez Adult Education Center.
Dr. Goldsmith has extensive expertise in building collaboration among faculty and industry, workforce investment boards and postsecondary educational agencies in order to identify and provide opportunities for students to gain the necessary skills and knowledge for future employment in high demand fields. Dr. Goldsmith is a talented grant writer and educator. She has been called an evangelist for education whose efforts has led to a better life for thousands of students and families in the San Joaquin Valley.
Dr. Goldsmith has served on a number of other boards including United Way, California Community College Administrators of Occupational Education and San Joaquin Clean Energy Organization and the California Partnership for the San Joaquin Valley. Most recently, she is serving on the Board of Governors Task Force on Workforce, Job Creation and a Strong Economy. The California Community Colleges Board of Governors commissioned the Task Force with a goal to increase individual and regional economic competitiveness by providing California's workforce with relevant skills and quality credentials that match employer needs and fuel a strong economy.
Dr. Goldsmith's leadership has been acknowledged by many different organizations. In 2018, she was recipient of a Top 10 Professional Women and Leading Business Award by the Marjaree Mason Center. She was also recently named Woman of the Year by the City of Fresno. In 2017, she received a Distinguished Alumni Award from National University School of Education and the Outstanding Alumna Award by the California State University, Fresno Graduate Studies Division in 2013. Dr. Goldsmith received the Mariann Loniello Lifetime Achievement Award from the Association of Community and Continuing Education.
She earned her Doctorate of Education from the Joint Doctorate program offered by California State University, Fresno and University of California, Davis. Dr. Goldsmith is the first in her family to graduate from a university. She has two adult children, Chad and Chelsea Dobbs and one God-daugther, Ashlee Sian Hernandez.